Kitchen Countertops: A Jaw-Dropping Design
Prepare to be captivated by the awe-inspiring marriage of natural stones in our latest kitchen countertops project! Step into a world of rustic elegance with our farmhouse-style kitchen. This project showcases the irresistible pairing of Pizarra Verde Slate and Blue Tempest Quartzite kitchen countertops.
Pizarra Verde Slate for Kitchen Countertops
With its earthy green hues, this stone adds a touch of organic charm to the space. Also, the subtle variations in color and texture that embraces the rustic aesthetics of a farmhouse kitchen. Its inherent durability ensures your kitchen will stand the test of time while maintaining its appeal.
Blue Tempest Quartzite
This stone captures attention with its blues and greys, of a serene coastal landscape. For example, the natural veining dances across the surface, creating a symphony of elegance.
Advantages of Natural Stone in Kitchen Countertops
Incorporating natural stones into your kitchen countertops adds a unique touch to your culinary space. Additionally, the combination of Pizarra Verde Slate and Blue Tempest Quartzite in this farmhouse-style kitchen creates a harmonious balance.
Pizarra Verde Slate: Originates from quarries where nature's magic has worked for thousands of years to create this magnificent stone. That means that each slab is distinct in its color variations and textures, your kitchen countertops become a one-of-a-kind masterpiece that reflects the beauty of the natural world. The earthy green tones evoke a sense of grounding, making your kitchen a warm and inviting space that beckons family and friends to gather around.
Blue Tempest Quartzite: Transports you to the tranquil shores of a coastal paradise. Its mesmerizing blues and greys, formed over millions of years, are now encapsulated in your kitchen countertops. This stunning stone serves as a focal point, drawing the eye and making your culinary space a visual delight.
Therefore, beyond their breathtaking aesthetics, both Pizarra Verde Slate and Blue Tempest Quartzite are renowned for their durability and strength. As kitchen countertops endure daily wear and tear, these natural stones can withstand the demands of a bustling kitchen, ensuring they remain beautiful for generations to come.
To complement the enchanting pairing of Pizarra Verde Slate and Blue Tempest Quartzite, consider incorporating other natural elements into your kitchen design. As a result, wooden cabinets and exposed ceiling beams can enhance the farmhouse charm, while sea-inspired decor items like seashells or marine-themed artwork can accentuate the coastal allure.
The Kitchen Project: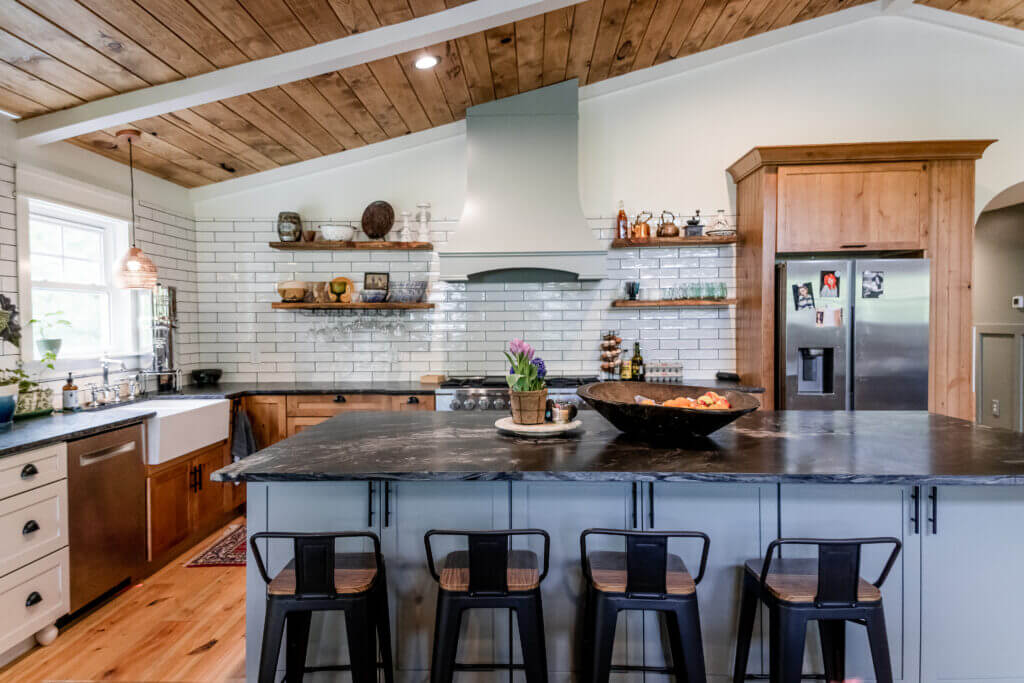 Imagine the joy of preparing meals in this breathtaking kitchen, where every surface tells a story, and every detail is crafted to perfection.
Start your new project today. Shop at Absolute Stone Design in Richmond, VA.
Absolute Stone Design | 11200 Washington Highway, Glen Allen, VA 23059 | 804-752-2001