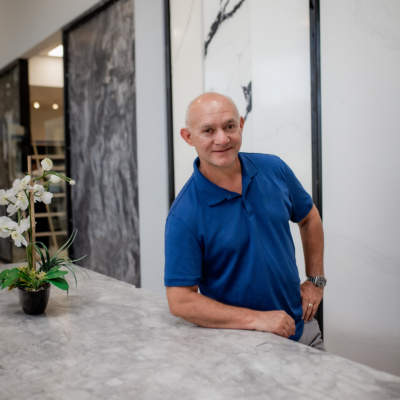 Valdeci Ribeiro
CEO & Founder
---
Val began his career in stone in Brazil. He left the country on a soccer visa, playing in Southern Europe – Spain, France and Italy. By the time he moved to Boston, Massachusetts, Val spoke five languages. He met his wife, Rose, and married. They have three children. In 2008 Val made the decision to move his family to Richmond, Virginia, where there were only 40 fabricators in the market at the time. Now after over 15 years of serving the Richmond market, Val continues to enjoy being able to create the best possible product for his customers.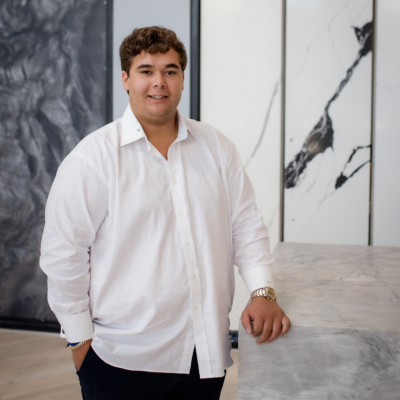 Christopher Ribeiro
COO
---
Christopher Ribeiro has grown up in this industry, and is now a second generation stone craftsman. Chris has had the opportunity of growing up in the Richmond area, which continues to grow and has been surrounded by ample community support. He graduated from Godwin High School in 2017, where he went on to play Lacrosse at the collegiate level for Rollins College, located in Winter Park, Florida. Christopher has just recently graduated from Rollins in 2021 with a Bachelor's Degree in International Business with a concentration in Finance, and two minors – in Economics and Spanish. Since graduating Chris has come back to Richmond to help out with his family business. He is now the Chief Operating Officer of Absolute Stone Design and has many plans for the future of his family's business.
Silvia Ferreti
CFO
---
Silvia Ferreti has a bachelor's degree in accounting with a postgraduate degree in Management and Finance. She worked in Brazil for Petrobras, but has been working at Absolute Stone Design for the past four years, contributing and continuously learning new and better ways to do business.
Feel Free to Browse Our Exquisite Products
From Beautiful Marble, to Virginia Soapstone