When you think of pampering and self-care, your bathroom probably comes to mind, right? It's your personal spa, and just like any sanctuary, every detail matters. This includes your bathroom countertop. Dive with us into the fabulous world of bathroom countertops, and let's uncover why the right material can make all the difference.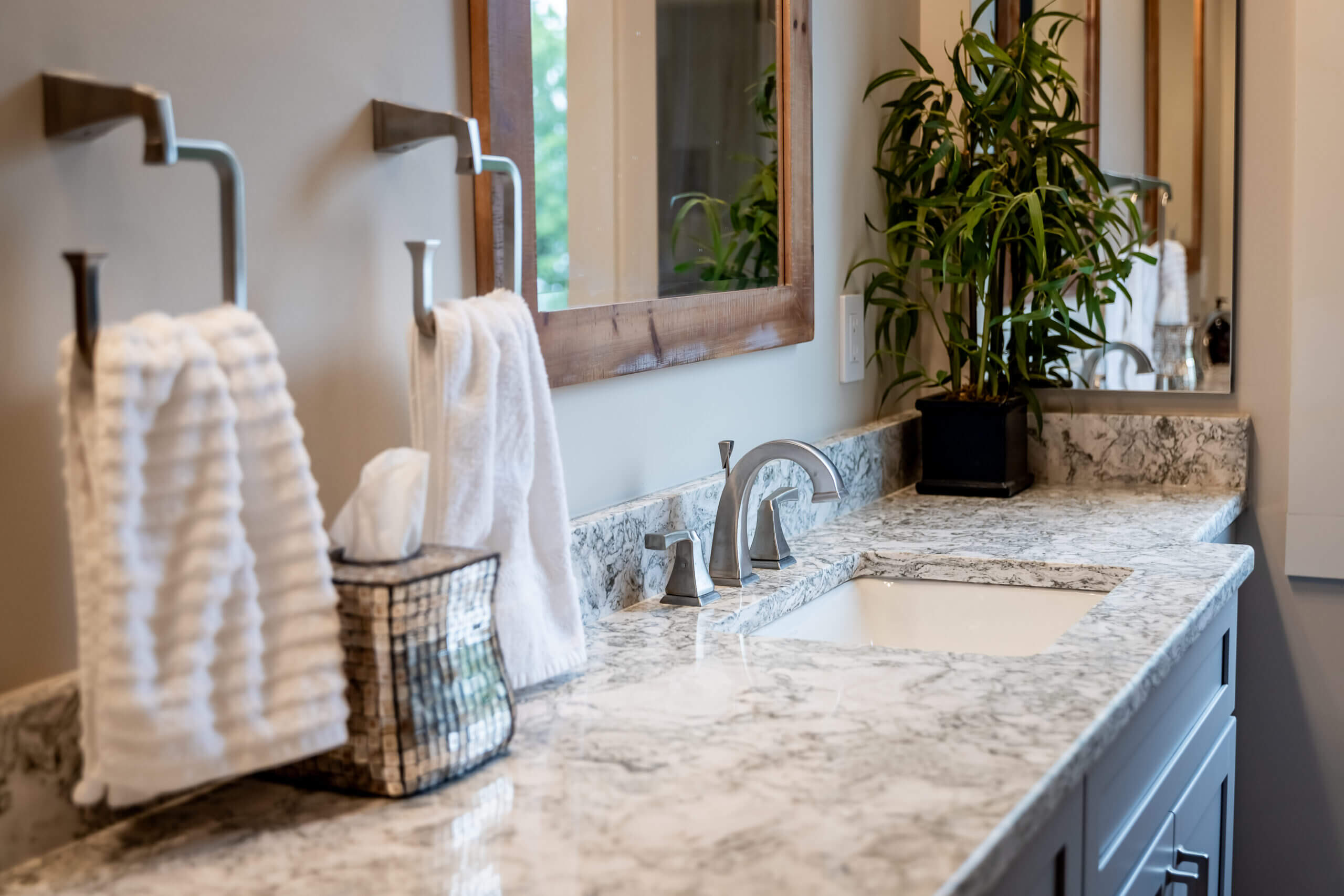 Why Your Bathroom Countertops is More Important Than You Think
Setting the Mood
Your countertop isn't just a functional slab; it's the canvas of your bathroom. The right one complements your fixtures, mirrors, and even those cute little soap dispensers. So, before picking one, take a moment to visualize the kind of ambiance you're going for.
Durability: Because Life Happens
From accidental spillages of your favorite nail polish to hot curling irons, our counters bear the brunt of our daily routines. Long-lasting materials can take it all in stride and still look as fabulous as day one.
Cleaning Made Easy
Let's be real – nobody wants to spend their golden years scrubbing stains. The material you choose has a huge impact on how much elbow grease you'll need.
Unraveling the Options
Natural Stones for Bathroom Countertops: Nature's Masterpieces
Marble: Oh, the timeless elegance of marble! This stone screams luxury. However, keep in mind it's a bit like that high-maintenance friend. It's prone to staining and requires tender loving care.
Granite and Quartzite: If nature made an art gallery, granite and quartzite would be the centerpieces. They are durable and boast unique patterns, but they do like a little pampering now and then with some sealing.
Engineered Quartz: The Star Player
Quartz is like that trusty friend who's always got your back. And here's why:
Consistency is its middle name: Unlike natural stones, which can surprise you with their varied patterns, quartz gives you what you see.
Low-maintenance: It's non-porous, meaning fewer stains and less cleaning. Perfect for those spontaneous guests.
Cambria Berwyn Quartz: The Crème De La Crème: Imagine a countertop material that combines style, durability, and simplicity. That's Cambria Berwyn for you. It's sophisticated with a hint of sparkle, just enough to catch your eye but not so much that it's overbearing. For the mature and elegant homeowner (yes, that's you!), it's an unbeatable choice.
Choosing YOUR Perfect Countertop
Aligning with Your Bathroom's Personality
Your countertop should be in harmony with the overall vibe of your bathroom. Whether it's a coastal escape, a vintage haven, or a modern retreat, make sure your countertop is a team player.
Let's Talk Maintenance and Lifestyle
Think about your day-to-day life. Do you have grandkids who might splash water everywhere? Are you an avid makeup enthusiast? Pick a countertop that suits your lifestyle.
Thinking Long-Term and Value
We all love a good investment. A top-notch countertop not only serves you well but can also bump up your home's resale value.
Loving and Caring for Your Countertop
The General TLC
Whichever material you go with, a little TLC goes a long way. Use coasters, avoid harsh chemicals, and wipe spills promptly.
Cambria Berwyn Quartz Special
For our Berwyn fans (and we know there are many of you!), it's quite the low-fuss buddy. Warm soapy water and a soft cloth are all you need to keep it sparkling.
Wrapping It Up
There you have it. Your bathroom countertop is more than just a stone slab; it's an expression of your style, a testament to your lifestyle, and a witness to your daily rituals. And if you lean towards the chic and resilient Cambria Berwyn quartz, let's just say, we wholeheartedly approve!
A Little Nudge
If you're feeling a tad overwhelmed, remember, there's a community here to help. We are just a call away. Ready to embark on this countertop journey? We're right beside you.
Absolute Stone Design | 11200 Washington Highway, Glen Allen, VA 23059 | 804-752-2001